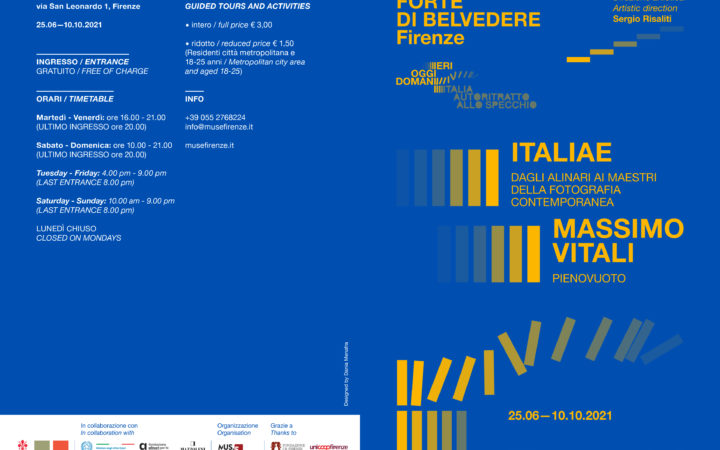 Sono molto contento ed onorato di partecipare a questa mostra.
"Un'Italia plurale, su cui nel tempo si è posato lo sguardo di fotografi diversissimi per tono, tecnica e stile, attenti a restituire le identità mobili e complesse del Paese, le sue tradizioni così come le sue più sottili linee di evoluzione. Italiae. Dagli Alinari ai maestri della fotografia contemporanea racconta, attraverso la fotografia, il fascino e la diversità dell'Italia, dei suoi paesaggi, della sua creatività e delle sue persone. Un secolo e mezzo di storia in una composita antologia di scatti, per ricreare un'ideale galleria di ritratti e memorie, capace di testimoniare la ricchezza
del Paese e al tempo stesso la straordinaria vitalità della fotografia italiana.Attraverso le opere di oltre 75 fotografi, viene così a delinearsi un'inconsueta narrazione visiva che mette in relazione autori, tecniche e soggetti diversi, con l'intento esplicito di far dialogare fotografia storica e contemporanea, seguendo assonanze formali, contenutistiche o contrasti. Ungioco di connessioni che permette di posare uno sguardo nuovo su immagini celeberrime – le stesse che hanno contribuito a costruire l'immaginario visivo del Paese –, arrivando però a scorgere in esse corrispondenze impreviste, e suggestioni inusuali. Una selezione che, senza pretendere di riassumere nella sua interezza la complessità della fotografia italiana, si pone in ogni caso come una sfida, e un mezzo per esplorare scelte estetiche e linguaggi che hanno attraversato oltre 160 anni di immagini, tra foto d'atelier, pittorialismo, concettualismo, cronaca e ricerca artistica.<<<2
"I am very happy and honored to participate in this exhibition.
"The Italies, the many Italies. A plural Italy, which over time has been captured by the lens of photographers who had very different tones, techniques and styles, intent on showing the country's mobile and complex identities, its traditions as well as its most nuanced lines of evolution. Italiae. Dagli Alinariai maestri della fotografia contemporanea (Italies. From theAlinari brothers to the masters of contemporary photography), in which photography recounts the fascination and diversity
of Italy, its landscapes, creativity and people. A century and
a half of history in a composite anthology of shots, recreating an ideal gallery of portraits and memories that bear witness to the country's richness, and at the same time, the extraordinary vitality of Italian photography.The works of over 75 photographers are brought together
to form an unusual visual narrative by different authors,
with their diverse techniques and subjects, with the explicit intention of creating a dialogue between historical and contemporary photography, following formal harmonies, content or contrasts. A play of connections that allows us to take a new look at famous images – the same ones that have contributed to building the country's visual imagery -, eventually, however, glimpsing unexpected correspondences and unusual suggestions in them. A selection that, without claiming to summarise all the complexity of Italian photography, poses a challenge in any case, and a means to explore aesthetic choices and languages in over 160 years of images, including atelierphotos, pictorialism, conceptualism, news reporting and artistic research."